The Bluecoat Bentinck curriculum is underpinned by four guiding principles: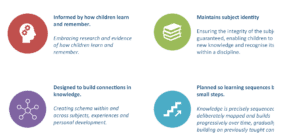 The Bluecoat Bentinck curriculum is carefully designed, curated and sequenced to provide the breadth and depth of knowledge which covers in full the content of the National Curriculum and goes significantly further adding breadth, depth challenge and wonder. Our pupils learn powerful substantive and disciplinary knowledge which is carefully sequenced and systematically revisited across all year groups to ensure retention and increase depth over time, developing secure schemas of knowledge.
Individual subject content is progressively mapped out to ensure new knowledge is built on prior learning as well as ensuring progression in each subject across the curriculum. To view the overarching themes and content that is taught in each year group and subject, please click below to view our curriculum overviews.
Art & Design Curriculum Overview
Computing Curriculum Overview
Design Technology Curriculum Overview
Geography Curriculum Overview
History Curriculum Overview
Maths Curriculum Overview
Music Curriculum Overview
PE Curriculum Overview
PSHE Curriculum Overview
Science Curriculum Overview
Spanish Curriculum Overview